Champions School of Real Estate® aims to provide our students with the most flexible registration options in the industry. We know there are scenarios in which a student may want to request a refund. Please review the information below for a detailed explanation of our refund policy and how it pertains to the courses and products we offer. This information is also included in the enrollment agreement that students are required to sign during registration.
General Refund Policy
All courses (except Exam Prep) are refundable

within 5 days

from the date of purchase minus a

$20 cancellation fee per course

and the

cost of the textbook(s)

. After 5 days, courses are non-refundable.
If a student starts any portion of the course or downloads any textbook material from their online account, the course is non-refundable.
Courses that have not been started and no longer qualify for a refund can still be transferred or used to pay for an alternate course or package. Additional costs, including textbooks or transfer fees may still apply.
Textbooks and Materials
Textbook materials are included in the cost of courses but are

non-refundable

once they have left the campus. If a refund is issued for a course, the cost of the textbook will be deducted from the total.
Textbooks that are shipped to a student are

non-refundable

.
If a course receives a substantial update to the material within 90 days of purchase, an updated book will be provided at no additional charge. If more than 90 days have passed, students are required to pay for a new textbook.
Exam Prep Refund Policy
Exam Prep courses are

non-refundable

once a student has picked up the textbook or attended/started any portion of the class. This includes accessing their online textbook.
Students who have paid for but not taken their prep course or picked up the prep book will have one year from their first class date to retake the Prep class as many times as they wish at no additional cost.
Learn More about our Delivery Method Options
Blended Classroom
The best of on-campus classroom and home-study with textbooks.
For students who learn best in a class environment. Study the material before class and spend class-time learning from a teacher.
(Real Estate QE & SAE Only)
Virtual Classroom
Combination of instructor-led ChampionsLIVE!® streaming and home-study.
Best for remote students who want the classroom experience streamed to their home or office. Study before class and spend time with a real-teacher remotely at home.
Online-Interactive new!
An interactive course with video, modules, and exercises that works on any mobile device with an internet connection.
For remote students who learn best with video and interactive activities. Work through the (timed) guided modules and then take the quizzes and exams on any device with internet.
Learn More
Online-Correspondence
Self-paced, online learning with PDF or hardcopy textbook.
For remote students who learn best studying by themselves. Download PDFs or use hardcopy textbooks. Take quizzes and exams on any device with internet.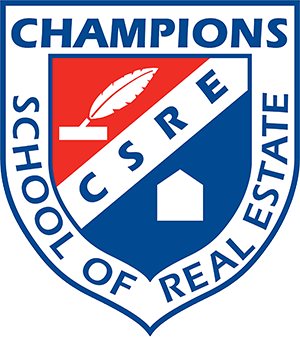 Champions Advantage
Choose one delivery method or try them all. Transfer anytime. That's the Champions Advantage. Learn More
Customize a program to fit your needs by utilizing all of our delivery methods and resources. Choose a different delivery method for each course and switch between them to find your best learning environment. No other Real Estate school offers this level of flexibility and convenience.