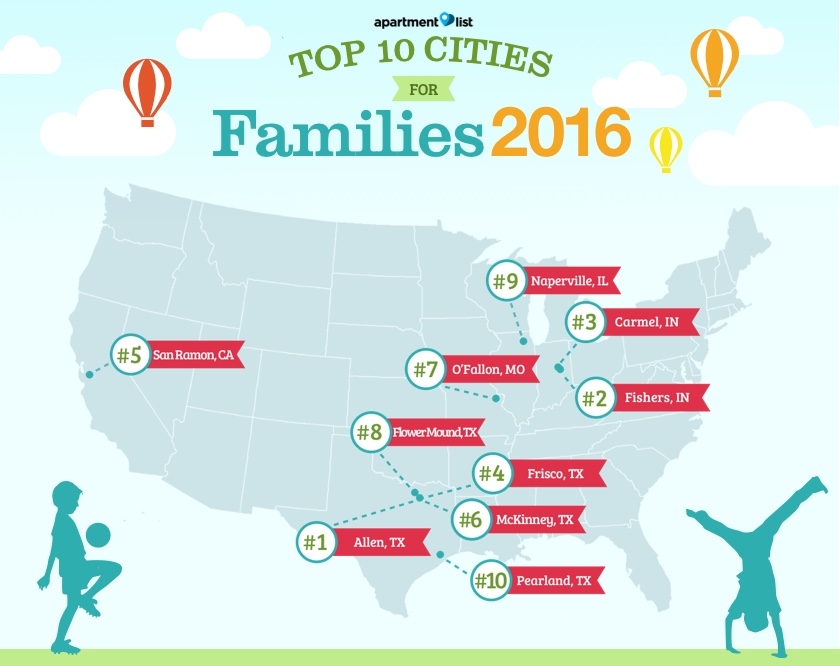 Apartment List's 2016 ranking of the best cities for young families repeats what we've been hearing in the news for years: if you want to live in a family-friendly environment, move to Texas!
Apartment List took a number of factors into consideration as they determined the rankings of nearly 500 cities nationwide. By comparing criminality, child friendliness, education and housing, they determined that nearly 20% of their top 100 cities nationwide are in Texas. Of the top 20? Nearly half!
The Houston suburbs of Pearland (10th), League City (18th) and Sugar Land (71st) made the the top 100 list, while overall, DFW suburbs took high spots: Allen led the nation with its first-place spot, followed by Frisco (4th), McKinney(6th), Flower Mound (8th) with Plano (No. 23), Lewisville (No. 33), Carrollton (No. 45), and Grand Prairie (No. 49) jumping on to the list shortly after. 
Here's how Texas cities ranked in the Top 100 of Apartment List's Ranking:
| | | | | | | | |
| --- | --- | --- | --- | --- | --- | --- | --- |
| Rank | City | Crime Score | Child Score | Education Score | Housing Score | Total Score | Grade |
| 1 | Allen, TX | 96 | 96.4 | 99.7 | 96.7 | 97.2 | A+ |
| 4 | Frisco, TX | 86.4 | 99.1 | 99.1 | 97.9 | 94.3 | A+ |
| 6 | McKinney, TX | 84 | 97.4 | 97.8 | 98.2 | 93.1 | A+ |
| 8 | Flower Mound, TX | 98.2 | 93.6 | 67.3 | 99.2 | 90.3 | A+ |
| 10 | Pearland, TX | 79 | 88.6 | 98.1 | 97.1 | 90.2 | A+ |
| 12 | Missouri City, TX | 88 | 66.5 | 86.7 | 97.5 | 88.4 | A |
| 15 | Round Rock, TX | 81.9 | 93.4 | 96 | 85.9 | 87.8 | A |
| 18 | League City, TX | 82.6 | 82.9 | 81 | 98.8 | 87.1 | A |
| 23 | Plano, TX | 80 | 62.1 | 96.6 | 89.9 | 85.3 | A |
| 33 | Lewisville, TX | 67.8 | 68 | 94.3 | 88.5 | 80.7 | A |
| 45 | Carrollton, TX | 76.5 | 61.2 | 67.3 | 91 | 77 | A- |
| 46 | New Braunfels, TX | 47.6 | 82.9 | 95.5 | 93.5 | 76.9 | A- |
| 49 | Grand Prairie, TX | 63.4 | 91.5 | 76.6 | 86.2 | 76.4 | A- |
| 64 | Irving, TX | 59.8 | 81.6 | 71.3 | 89.5 | 73.8 | A- |
| 71 | Sugar Land, TX | 89.9 | 44.6 | 86.7 | 49.7 | 72.5 | A- |
| 77 | Richardson, TX | 72 | 28.4 | 78.5 | 79 | 71.4 | A- |
| 83 | N. Richland Hills, TX | 72.3 | 53.2 | 67.3 | 76.5 | 70.4 | A- |
| 87 | Midland, TX | 60.7 | 80.4 | 45.4 | 98.4 | 70.2 | A- |
| 92 | Killeen, TX | 39.2 | 93.2 | 70.3 | 95.8 | 69.4 | B+ |
fafaefa