1
Log in to your account at ChampionsSchool.com and access the "30 Days to Success" Course under your "My Classes" tab.
2
Get started with Day One! Once you have watched the video presentation on the day's topic, you will have access to an article, written by Rita Santamaria herself, pertinent to the Day One topic.
3
Then move on to Day Two in the same way! Once you have completed all 30 days of the course, you will be asked to complete a short survey, and provide your contact information. Once completed, you will receive an official Certificate of Completion, and a personal letter from Rita!
4
Want more 30 Days? Just start the course over from the beginning, as recommended by Rita! You will have full access to all provided course materials for a full six (6) month period.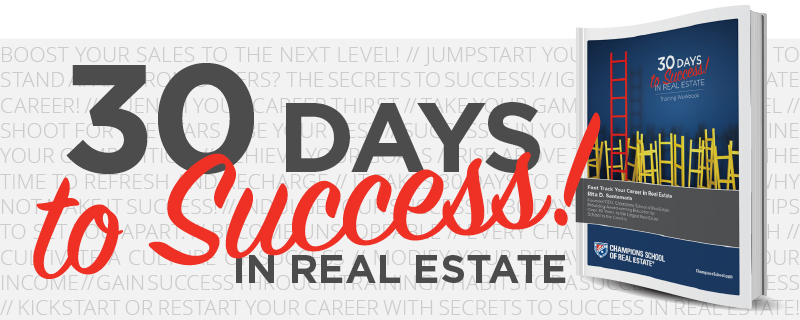 <![if (gte IE 9)|(!IE)]>
<![endif]>
30 Days to Success in Real Estate Coaching Package
Jump Start Your New Career!
The 30 Days to Success in Real Estate! Video and Coaching Program is a Day by Day Workbook that allows you to climb the ladder to success in your new career. Use the workbook and watch the coaching video with Rita Santamaria, as she teaches you how to use each day in your manual. You will have direction, encouragement and accountability when you access your coaching video as it takes the mystery and stress out of approaching your new career in real estate. Maybe you are an experienced agent and need a refresher, this training works for you too!
Course Includes:
30 Days to Success Training Workbook
Daily Video Coaching
Scripts Ready for You to Use
Financial Business Plan
Accountability